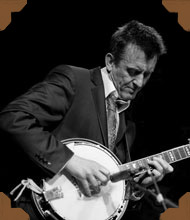 Testimonials
In the press
Dick Smith's breathless banjo picking
Stewart Lee for The Sunday Times. The Coal Porters - Durango review. Feb. 2010.
...a feast of highly crafted ensemble playing with the odd virtuoso turn ...special mentions go to ...the exquisite banjo playing of Dick Smith
Robert Hughes for Uncut magazine. The Coal Porters - Durango review. April 2010.
.... Naturally you'd expect to hear some praise for Sid Griffin on lead vocals and mandolin, but this is a band with a banjo [Dick Smith], a banjo which is being played with some skill and panache so my attention did waver a little I confess.
AmericanaUK, The Coal Porters at The Barbican, 2009. Review by Jonathan Aird
Student testimonials
I really think I have achieved something. This is the first instrument I have learnt to play since the recorder at junior school. The lessons have been very enjoyable. 10/10.
Kate, South London
A brilliant course in all respects - 9/10
John, South London
I love coming to class on Tuesdays - always look forward to it. Outstanding.

Victoria, South London
Really encouraging tutor - 9/10

Hannah, South London
Thoroughly enjoyable - 9/10

Steven, North London
Friendly and relaxed - 7/10

Gill, South London